Queer & Poly In Media – Image Out Spring Fest 22. All Films
Rebel Dykes
Wildhood
You Are My Sunshine
Queer and Poly In The Media – ImageOut Spring Festival 2022.
Hi Friends!
Rochester is blessed to have an organization such as ImageOut. ImageOut now produces their main festival in the fall, but this year for the second time they also held a Spring Festival. It is sort of a mini-festival, and according to ImageOut Board Member Michael Gamilla on the Rainbow Roc Radio show, it's also a chance to showcase films that may get overlooked by other film festivals.
This Spring Festival was the kick-off of ImageOut's 30th Anniversary year. There were 13 films offered – some in person only, some virtual only, and some offered both options. I am not a huge theater person, so I was thrilled when ImageOut decided to offer films virtually during the pandemic year. So I was happy that they decided to continue offering this option. There are so many people who want to see these films but may not have transportation, or the money to go, or whom may have health issues, or need the ability to pause and rewind to process something or who feel unready to venture into theaters yet, or who – like me – never liked to venture into theaters! I hope ImageOut offers the hybrid option forever.
ImageOut also remains dedicated to making films accessible to as many people as possible. If you are low-income, let them know and they have (possibly limited) free or discounted options available. I let them know that I am unemployed but wanted to watch a few movies – they hooked me up! Never hurts to ask. Thanks ImageOut! Here are the movies I picked to watch!
Please be WARNED: There may be spoilers ahead.
Rebel Dykes – Rebel Dykes is a documentary. Directed by Harri Shanahan and Sian Williams in 2021, the film is about 90 minutes long and I was able to watch it with captions which helps me out a lot! Rebel Dykes shows what the 1980's dyke culture was like, specifically in London. I am not usually the documentary type, but the description on the ImageOut website caught my attention. "Bawdy, brash, and bold, the Rebel Dykes burst into London's 1980s lesbian scene and defied the approved narrative that dominated radical feminist culture of the era. This outstanding documentary takes us back to a boisterous band of women: artists, musicians, and biker dykes who forged a path heavily into punk, leather, and sex-positivity (with a little BDSM thrown in just for fun)." I found it fascinating. Watching it made me want to be a Rebel Dyke too back then. Great interviews and archives are shown. This features a lot of discussion about how the Rebel Dykes became a community doing art, music, politics and sex.
Wildhood – Here's the start of the description from the ImageOut website, "Wildhood, a moving coming-of-age drama from writer/director Bretten Hannam, follows Lincoln or Link (Phillip Lewitski) as he sets out to find his estranged mother. As Link and his younger half-brother Travis make their way across Nova Scotia, Link will learn to embrace his indigenous roots and discover who he really is." In this film, Link learns about his heritage, from the Mi'kmaq people. I loved the diversity in this film. The connection between Link and his brother Travis as well as his connection with Pasmay (Joshua Odjick) were touching and believable. It's a touching coming of age story where these two young men fall in love, and discover their heritage at the same time. I really enjoyed it.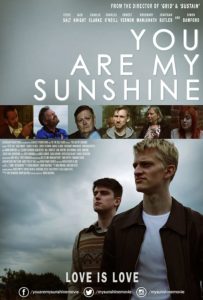 You Are My Sunshine – This was the last movie I watched and I think it may have been my favorite. Written and directed by David Hastings, this story shows the power of queer love through a lifetime. We see the characters as their young selves – where they meet and fall in love. Their love angers some of their family. We also see the characters as their much older selves. Dealing with the issues of aging as a gay couple. This movie shows the struggle of coming out when your family casts you out. But it also shows the power of lasting love and how it can shine through. The beginning of this movie felt a little bit slow for my personal taste – but I was so glad I watched it anyway. It made me smile, and it made me cry. I would definitely watch it again!
Okay – so that's it for me for now. You definitely want to check out the ImageOut website or FB page to stay informed for their Fall Festival. I will absolutely be watching some more films then.
Love always,
Kat