In Today's Update
Coaching Journey Update
Trauma Healing Journey Update
February Goals
The Closing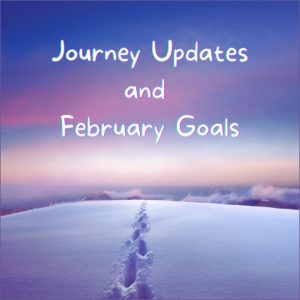 Updates to two of my journeys, February goals, & more!
Hi Friends!
I hope that you are all doing well and staying warm and healthy this month. Here in late January it is cold – and I hate going out in the cold! I'm trying to be positive – we have way less snow than is typical for this time of year and I'm definitely grateful for that – but I'm already itching for spring, how about you?
I thought I'd give you some quick updates on my two bigger journeys, and share with you some of my goals for February. So here we go!
Coaching Journey – I've been working for about two months with a state agency that is designed to help folks like me go from disability to being self-sufficient. I had finally decided what I want to be when I grow up! Yes, at 40-something. I want to become a Life Coach with a specialty in ADHD related coaching. Specifically I want to do this in the LGBTQ community, thought not exclusively. This agency, in theory, will provide funding for many things to help get a person trained and back to work. They will even pay for four-year college tuition if they believe you will be able to be self sufficient after. It's really a pretty cool program.
However, after five or so meetings, and being told I definitely qualified for the program – I was finally told this week that the specific program that I wanted to get them to pay for – they won't pay for it. I even suspected that in the beginning, but they took so long to tell me that they got my hopes up so I'm quite a bit disappointed. I really think that this is my calling and I was very hopeful they'd do this. So I was pretty bummed out when I found out that they won't. They can only pay for certain "vendors" – which does include many of our local colleges, but that's not what I want or need.
But all is not lost. I really want this so I'm determined to figure it out. I have a supportive boss, two supportive partners, and determination so I'm sure I'll figure it out. There's another program that my boss pointed me towards that would be an excellent fit and is much cheaper than the original program. So I'm looking into funding options on that end. Perhaps when I figure out my taxes, I'll get enough of a return to pay for the second program – that's my current hope. So send some well wishes and good luck my way for that! I'll definitely keep you updated! While I wait I'm continuing to read, research, and learn! And create ADHD and mental health content!
The Trauma Healing Journey Update. I feel like I'm going to need a better term for this. It's not entirely accurate. I have Complex PTSD along with a host of other things – so this isn't a journey with a specific end point. However, it *is* a journey of sorts that I'm on. I have trauma related to things that happened in childhood; and then I have trauma that happened more recently.
After a few particularly difficult years, I began to attend a group therapy for trauma survivors – to help learn PTSD related skills. While attending the group, I spent most of the time crying, and realized my current traumas and my childhood traumas are feeding off of each other in some cases. I wasn't able to finish the series of due to – well – December kicking my butt. But I am on the list to get back into it. In the meantime, I'm searching for another therapist – while I like my current therapist, I think I've outgrown him and need to do more trauma focused work, whereas when I met him I was focused on other mental health issues.
Unfortunately, I'm having to re-live one of the more recent traumas due to an ongoing lawsuit. I can't talk about that much yet due to said ongoing lawsuit – but it involved workplace abuse. Without talking about the details, I can definitely talk about my struggles moving forward – and reliving the incidents has been a very difficult thing in the last couple weeks. It triggers nightmares regularly and makes me feel physically ill often. I can't wait for the whole thing to be over so that I can truly move on – but until then, I continue therapy and working on moving ahead with my life – full steam ahead.
My February Goals I thought I'd share my February Goals with you. This is partly to help me stay accountable, but also to remind people that setting goals is a cool thing – as long as they are guidelines, not hard and fast rules. Having said that, I'm going to try to set a few goals each month – and next month I'll try to let you know if I think I made progress on those goals!
Social Media Goals – YouTube Video every Thursday, plus at least one short per week. Instagram – post at least five days a week; including three reels per week. Other stuff as desired
Coaching Journey Goals – Figure out funding for Coaching Program; Study ADHD Coaching material at least 2ce per week.
Big Girl Goals – call social security; get thyroid U/s done
Self Care Goals – read one book. Go on at least 2 friend dates. Get a pedicure.
I am going to post these goals somewhere I can see them all month and I'll let you know how it goes!
Reminder – Join My Email List (and get free stuff)
I have an email list. Folks who join will receive a monthly newsletter from me full of fun and interesting things! I never email more than once per week! Click HERE to join.
I have created a downloadable and printable Monthly Goal Planner. This is one of the tools that I use to help set my goals each month. It's a FREEBIE and anyone can grab it!
Okay – so that's it for me for now. I'd love to hear from you! If you have any comments, questions, ideas, etc. please drop me some comments here, on any of my social media platforms, or by email at kat@allbelong.com.
Love always,
Kat