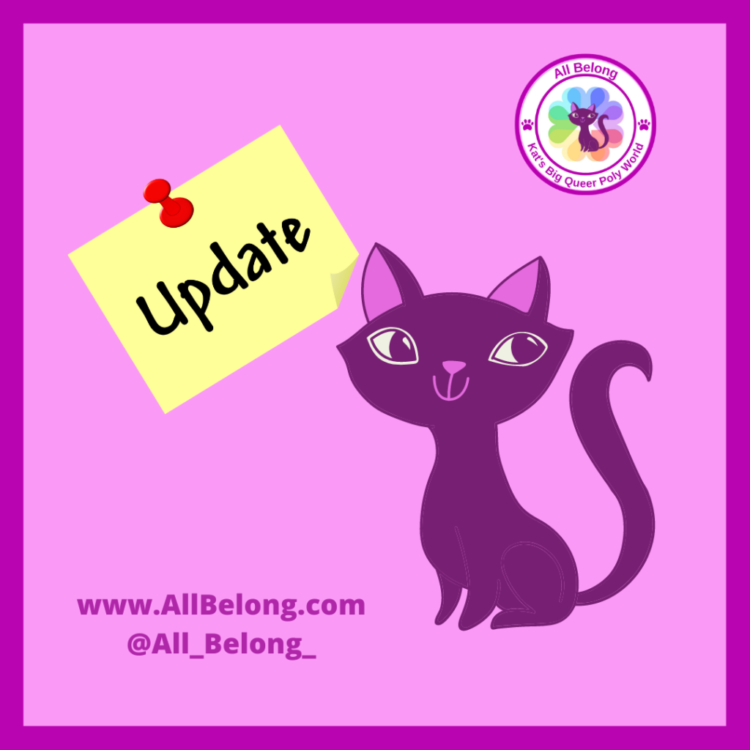 End of July Updates – YouTube and RocPride!
July has been SUCH a busy month, and it's not over yet! I wanted to take a few minutes to update folks here on my blog about what's been going on in July.
First – the most important news. All Belong @ Kat's Big Queer Poly World has launched a YouTube channel. On the channel, I have short and longer videos about all types of topics relating to queer issues, poly issues, neuro-rodivergency, aphantasia, mental health and a whole lot more. There's already a small library available for viewing and I'll be uploading new content at least weekly! Here's a sample of what's already up:
Styles of Polyamory Relationships
Bisexual vs Pansexual
Shorts about Aphantasia
Helping someone depressed
and more!
So make sure you go click subscribe on the YouTube Account, and make sure you are following me on all my social media accounts!
Okay besides launching the YouTube Channel, July is Roc Pride month here in Rochester and I celebrated! The photos on this page are a tiny representation of the over 4,000 pics I took at events across Rochester throughout the month of July.
Roc Pride 2022 Events that I attended:
Triclomes Pride Party
Red Wings Pride Night
Pride Day At The Beach
Pride Day At The Zoo
Roc Pride Parade
Roc Pride Festival
Roc Pride Picnic
County Pride Flag Raising
Westside Pride's Ice Cream Social
I might have missed a few that I did attend, and I certainly DID miss a lot of events. I was listening to my body and being careful. But I missed Sassy in the South Wedge that I really wanted to attend, and a few other things as well. But I'm so so glad that PRIDE is back on, and that I'm lucky enough to live in Rochester, where we celebrate PRIDE for two whole months!
Not much more to update you about for now. I will be making at *least* one blog post a month highlighting everything that's been going on for me! If you have any questions, things you'd like me to discuss, suggestions, etc – please drop them in the comments here, or on any of my social media platforms, or by email me at kat@allbelong.com
I'll be traveling the first week of August – so watch my social media accounts for fun pictures and videos from my week in VEGAS! I hope everyone stays safe and happy and cool this summer!
Happy Pride Everyone!
With Love,
Kat